BDC News
Press Release by
Suraja Menon Roychowdhury
The Fifth India International Film Festival of Boston was held on Sept 23-25, 2022.  This landmark year for the festival was themed "Women, Let's Spread Our Wings and Fly".  The (mostly) all-women all-volunteer team, led by director Razia Mashkoor hosted a spectacular event with a special opening night screening of Mehrunisa and closing out with a red carpet gala event at historic Cary Memorial Hall. The event celebrated the winners of the festival and felicitated Hindi cinema icon Asha Parekh with a Lifetime Achievement Award.  The festival was well attended by several film industry representatives, Ashaji herself and local fans of cinema. This year saw a record number of submissions of independent cinema including feature films, short films and documentaries in various languages from several countries, predominantly India and the US. 
Several films were screened over the weekend, and several more were available to watch online.
Best Film was a tie between Mehrunisa, directed by Sandeep Kumar and  Yes Papa, directed by Saif Hyder Hasan.  Both films also bagged other awards.  Best Director award to Sandeep Kumar for Mehrunisa, and Best Actor (Female) to Geetika Tyagi for her portrayal of a sexually abused woman both met with much applause and cheering as both Sandeep and Geetika were present to receive their awards. Best Actor (Male) went to Debasish Sahu for his haunting portrayal of a transgender woman in the Odiya film T, depicting the real life transgender activist and India's first transgender cab driver Meghna Sahoo. T was awarded Best film in the LGBTQ category. Yes Papa also garnered Best Supporting Actor Male for Ananth Mahadevan for his chilling portrayal of a sexual predator as well as Best Supporting Actor Female for Divya Sheth Shah.  Director for Best Short Film was awarded to Azad Alam for Together, a tale of the times of an elderly couple and their caregiver during the lockdown days of Covid. Hurdang, a story of human behavior during a chilling Hindu-Muslim standoff won the award for Best Short Film, while young adorable Aarav Bhatt, a local New Englander won Best Child Artist for his role of an Afghan refugee child separated from his family and brought to the USA. Best song was awarded to Kirdaar for 'Aao saari komein milkar hindustan banaye'. 
IIFFB has been giving an award for Best Film that highlights a Social Cause for the last 3 years. This year the award went to Ek Duaa directed by Esha Deol, a heart rending story of the family dynamics involved in having a girl child.  Veteran actor Mohan Agashe was presented with the Critics' Choice Award for his consummate acting in You Must Speak, a film about mental illness. Michelin Star Chef Vikas Khanna's inspiring documentary, Barefoot Empress based on Karthiyayani Amma who passed her literacy exams with a high score at the age of 96, after living a life of poverty and illiteracy won Best Documentary. 
Veteran Bollywood actress Asha Parekh was honored with a Lifetime Achievement Award.  Asha Parekh, elegantly beautiful in an emerald green sari with matching jewelry was interviewed by Faridoon Shahryar and held the audience spell bound with her thoughtful and straight shooting responses to the questions posed. A moment of lightness and laughter happened when the audience sang an early Happy Birthday for her.  Dances based on the songs picturized on Ashaji as well as a short documentary on her films were a special treat. Ashaji is also the recipient of the Dadasaheb Phalke award, announced the day after her award at IIFFB, the first female artist to win it after 22 years. 
Several Executive Awards were also given, including 
Community Pride Award to Taniya Nayak; Friends of India Award to Raj and Nalini Sharma for their role in American India Foundation (AIF); Friends of America Award to Mary Truong; Excellence Award to Indian Circle of Caring and Pride of India Award to Naeem Khan.
The festival garnered rave reviews from attendees, for the quality of films screened, for the camaraderie and warmth extended to the guests as well as the high quality of the festivities at the Red Carpet gala event. IIFFB2023 will be held
in Sept 2023. Stay tuned for more details.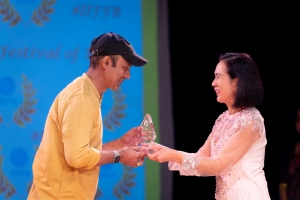 --IANS
sms\rm
(This story has not been edited by BDC staff and is auto-generated from a syndicated feed from IANS.)
Writers are welcome to submit their articles for publication. Please contact us through Contact Us in the Menue