Growing up in Jeddah, every evening in Ramadan, we would pile into our car and whiz off to the mosque for Taraweeh prayers to Shoaibi Mosque and spend a few spell-bound hours under the reassuring baritones of Sheikh Abdullah Basfar. His beautiful voice became the anthem of my childhood in many ways but more than his voice, it was the building of tradition and memory that became ingrained in my system. By doing the same thing, day in, day out, year in, year out, my parents gave us a sense of stability and predictability that set the tone for our entire adolescence.
How that rhythm seeped into the very bones of who I am is something I am still discovering well into adulthood.
Last night, standing in my grandmother's garden in Karachi, I experienced my first Taraweeh Khatam-e-Quran since leaving my parents home in Jeddah so many years ago. It is also, incidentally, my first Ramadan without both my parents, who last year seemingly decided they would much rather be together in Jannah than spend more time in this rubbish world and in quick succession, returned to their Maker, leaving me understandably grieving, awash in memories, struggling to steer my ship.
And so it was, that by the time the imam reached Surah Qadr, I was chokey. By Surah Kawthar, I had tears streaming down my face. And by the time the last three surahs, the comforting Quls, began, I was openly sobbing. Probably more openly than what is considered socially appropriate…but honestly, I was restraining myself. Because what I actually felt like doing was throwing my head back and howling up at the sky. Thankfully, I was flanked by women who knew, who understood, who with tears in their own eyes, let me be with my heaving shoulders and a chest that felt it would crack open under the weight of my emotions.
As the imam had recited surah after surah and the end of the Quran had approached, the ghosts of Ramadan Past had flooded into me and my body had remembered. It had remembered years and years of experiencing that same excitement, that same sense of weight as Sheikh Abdullah Basfar gently and methodically guided us over the course of the month through the Book of all books, that same uplifting, heartbreaking, momentous trepidation of offering something up to Him with the hope that He would bestow something shining in return.
Had this Book been revealed to a mountain, the mountain would have crumbled. You get a tiny glimpse of that weight when you complete a khatam. Here I am, Allah, here I am, in my little hole-y dinghy, with my itty bitty crumbs of ibaadah. Pliss to accept?
Back in Jeddah, after the khatam, we would pile back in the car and go for ice cream. Last night in Karachi, after the khatam, the Imam gave a short talk and in it he mentioned how we are encouraged to cry when conversing with Allah. We should beg and plead and insist and argue and tantrum with Him because He loves to be asked again and again. We live in a world of appropriateness, political correctness, carefully curated social media feeds and the necessity of putting our best, most polished face forwards at all times. How freeing then, that when we turn to our Lord, we are specifically instructed to abandon our sense of control. All the facades and the curtains are encouraged to be dropped away and we stand stripped to our souls in front of Him. In other words, He loves it when we fall apart. Which is exactly what I had just done.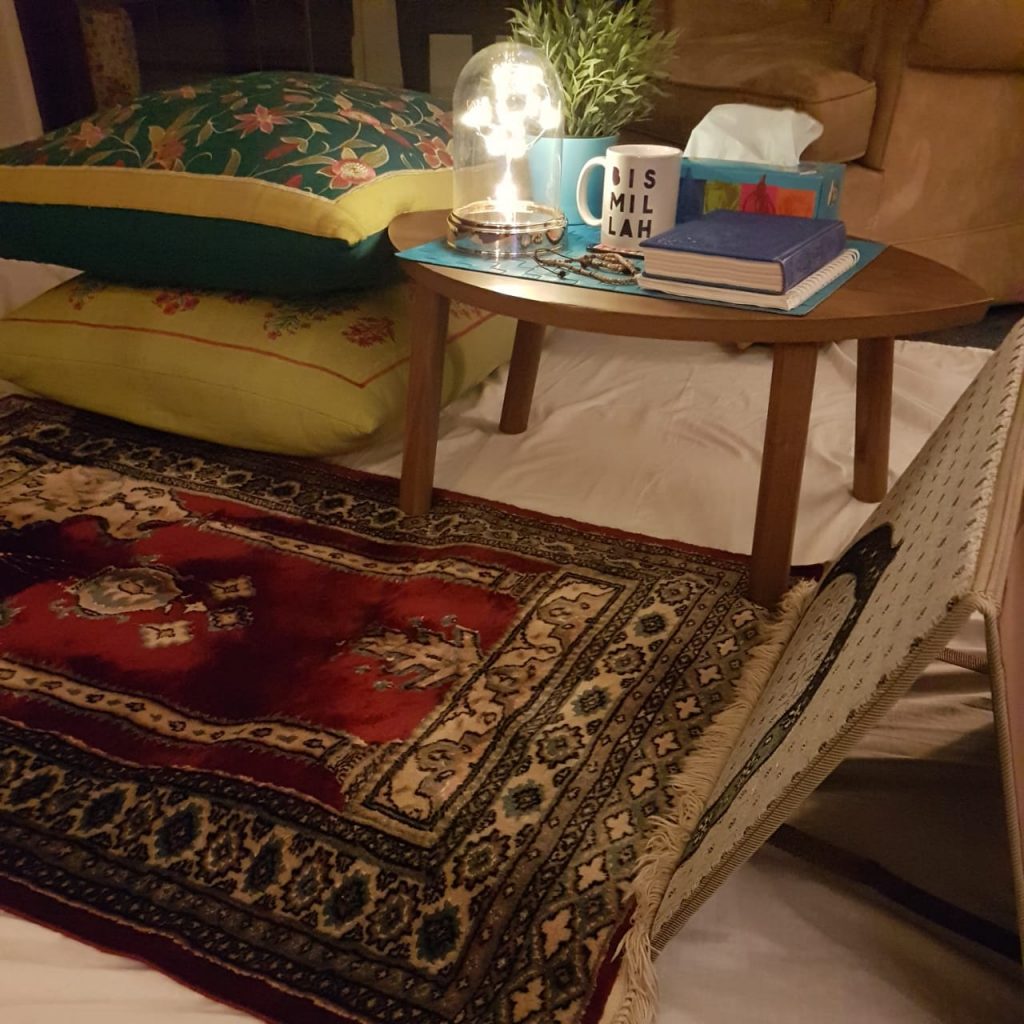 Last night, I found myself wondering what exactly had I cried so hard over. Which tears were for Him and the desperate desire for His mercy? Which were for the loveliness of the Quran, the steadying rhythm of it, not just verse to verse but also, cover to cover? Which tears were for the already achey yearning of yet another Ramadan gone past? Which were for my breaking heart that has to soon face my first Eid day and all the days of my life without my beloved Mumma and Baba? Which tears were of gratitude that I get to stand on an odd night of the best time of the year, alongside some of my dearest people, in the courtyard of a house full of childhood memories, under the vast, inky, starry sky and standing there, I get to fall apart, freely, wholly, soul-satisfyingly?
And which tears were of a searingly humbling recognition, that I am so wildly privileged to have this faith of mine – the faith that promises if we navigate the choppy dunya waters right, we will be reunited with our loved ones in a beautiful, eternal place, that if we purposely, and repeatedly crumble under the weight of our belief in Him and His plans, our future is bright?
Today, I'm convinced that it doesn't matter why I cried. Because here is what I do know:
1. "If Allah knows good in your hearts, He will give you better than what was taken from you…" (8:70)


2. "If Allah intends good for someone, then he afflicts him with trials." Prophet Muhammad ﷺ

3. "Wondrous is the affair of the believer for there is good for him in every matter and this is not the case with anyone except the believer. If he is happy, then he thanks Allah and thus there is good for him. If he is harmed, then he shows patience and thus there is good for him." Prophet Muhammad ﷺ
In losing my parents, I have drawn closer to Allah. And though I miss them dizzyingly, I am so thankful that through the childhood they gave me, through the anchoring to the Quran they gifted me with, through their own tears that I witnessed during those long-ago khatams in the Shoaibi Mosque in Jeddah, they left me with the knowledge that if in losing them, I have gained even an atom's worth more of His pleasure, then that's a pretty great bargain.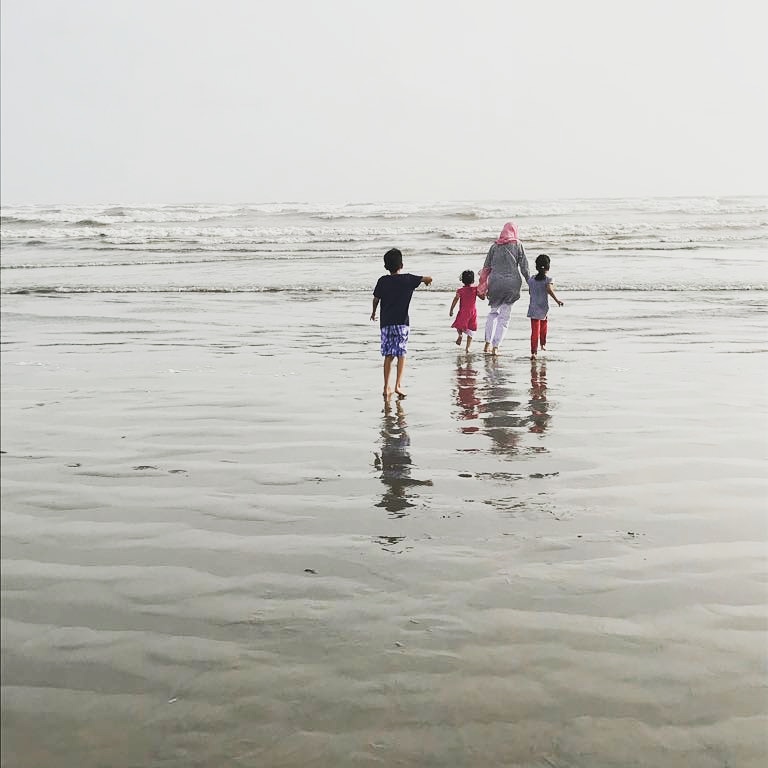 As a parent of three young ones myself, I've spent my days teaching my children: be strong, be strong, be strong. Stand tall, stay firm, be sturdy in the face of the distracting, crashing waves of the world. But now I know something just as important to teach them: be weak, be weak, be weak.
Crumble in front of Him, fall apart, break open so that His Light may enter and be the only thing to fill you. It's not easy but it will be essential for your survival in the face of any loss, grief, trial and despair this world throws your way. It will help you, finger to tongue, always know which way the wind is blowing and which way to steer your ship. Straight in to the sun, always. To Jannah. Because how wondrous are the affairs of us Muslims that when it comes to our sorrows and our hopes, out there on the horizon of Allah's wise plans, it all shimmers as one – The grief of what is, the memory of what was and brighter than both, the glittering, iridescent promise of what will be.
Related Topics: #
Allahdeath #DramaMama #FeaturedIslammuslims #Quran #ramadan #taraweeh
Related